200 Hour Yoga Teacher Training - 10 Week Program
MyCAA Military Spouse Scholarship Program now accepted
So you're itching to teach soon...like ten-weeks-soon?
Dive deep with your practice, become a Vinyasa OR Hot Yoga Teacher, and join a fun, engaging, and dedicated community by taking our intensive program.
By the end of the training, you will be ready to teach, adjust, and modify a yoga class. You'll have a solid, groundwork understanding of the chakras, yoga philosophy, alignment, pranayama...and so much more.
*Now offering a Hot Yoga Teacher Training track!
Hot track OR Vinyasa track CEUs (for 200 hr teachers) is $675 with separate options for discounts.
Yoga Teacher Training Schedule:
This program meets for 10 weeks
a couple of Thursdays 6-9 pm
Tuesday nights 6-9 pm
Saturday 8:00-12 for Hot or 12:30-4:30 for Vinyasa
Sunday 10-4
an overnight (Sat-Sun) trip to Shoshoni Yoga Retreat
Next Start Date: Sunday, June 2nd, 2019
End Date: August 11th
Early Bird Date: May 19th

Upcoming Info Sessions:
Thursday May 2nd at 7pm
Monday, May 13th at 5:45pm
Special Taste of Teacher Training Night Thursday May 23rd at 7:15pm
Friday May 31st at 5:30pm
Meet the Teacher Trainers!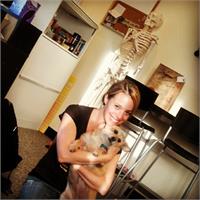 Amber Richman, E-RYT 500, RCYT
cambio. Owner, YTT Director, Instructor


Amber has been practicing yoga since 1996 and teaching since 2005. She co-founded Cambio in 2009 and has co-developed Cambio's 200 and 300 hour teacher trainings, drawing on her yoga experience, trainings, and background in education. She is working toward a certification in Yoga Therapy.
A Colorado native, she is honored to be able to bring donation yoga to her beloved city. You might see her around the studio with her dog, Sasha, who has been practicing yoga since 2011. Amber loves to read, hike, and spend time with loved ones.
Austin Richman, 500 e-RYT
cambio. Co-Founder, YTT Faculty
Austin began his yogic path one afternoon many years ago when his sister challenged him to a Warrior II. This sparked a curiosity in him that has since turned into a daily passion that he loves to share with as many people as possible. Austin's classes are uplifting, philosophical, challenging and have been known to make people laugh. Austin teaches Yoga as a tool to cultivate a specific quality of excellence that promotes clarity, peace and joy. He received his 200 hour in 2007 at Corepower Yoga (under the tutelage of Lora Lantz, now his wife), and since has completed his 300 hour with Inner Peace at the Radha Madhav Dam ashram in Austin TX, this juxtaposition of trainings is just the mix of power and peace that he strives to offer his students. Austin also loves to play music, yoga has only added to that aspect of his personality as he can often be found playing music for yoga classes or writing music informed by what he learns on the mat. His musical project is called Spiritwell and he loves to play with others as well as cross as many genres as possible. Austin began Cambio., a donation based yoga studio, with Cassandra Green and his sister Amber Richman in 2009 where accessibility , community and education are the guiding principles and mission. Austin's other interests include: spending time with family, being outdoors, loving on animals, staying active and getting plenty of rest. He is extremely grateful for all of the positive transformation that yoga has created in his life and hopes to continue to grow, serve, and share that with others.
Austin teaches Vinyasa, Power, and Yin Yoga, leads an array of workshops , continuing education programs and co-leads the 200 and 300 teacher trainings at Cambio Yoga.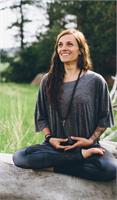 Kristen Mack, E-RYT
cambio. YTT Coordinator, YTT Faculty, and YTT graduate
Kristen was born and raised in northeastern PA. She remembers being a small child taking long hikes and walks with her grandfathers, learning about the world around her. She developed a great love for the outdoors, nature and critters large and small. And through her stumbles and successes, has learned to laugh a lot and not take life too seriously. In addition to completing her yoga teaching certification, she is a Holistic Health & Wellness Coach, has studied exercise science at Penn State and is a massage therapist. Her love of nature and the outdoors brought her to Colorado Springs, where she began practicing yoga regularly at cambio, and found the peace and community that she never realized she was looking for. Besides practicing yoga, you can usually find her with her family, enjoying all Colorado has to offer.
In class expect to laugh, absorb, sweat, challenge yourself physically as well as mentally, and laugh some more!
How Much Does Yoga Teacher Training Cost?
The Tuition for Yoga Teacher Training is $2,500 *A $250 non-refundable/non-transferable deposit is required to hold your spot in training. This deposit is part of the total tuition, not additional. You can take both the Vinyasa and Hot track for $3050 (all discount below apply). If you already have a 200 in Vinyasa or Hot and would like to take just the CEU's for the other track it that cost is $675 (discounts below do not apply)
Can I Get a Discount on Yoga Teacher Training?
Yes, you can:
Save $100 by registering at an info session
Save $50 by paying cash or check
Save $200 if you pay in full by the early bird date January 13th 2019
MyCAA Military Scholarships are now available
Still have questions? Contact our intensive format coordinator, Kristen. She's chomping at the bit to answer your questions!