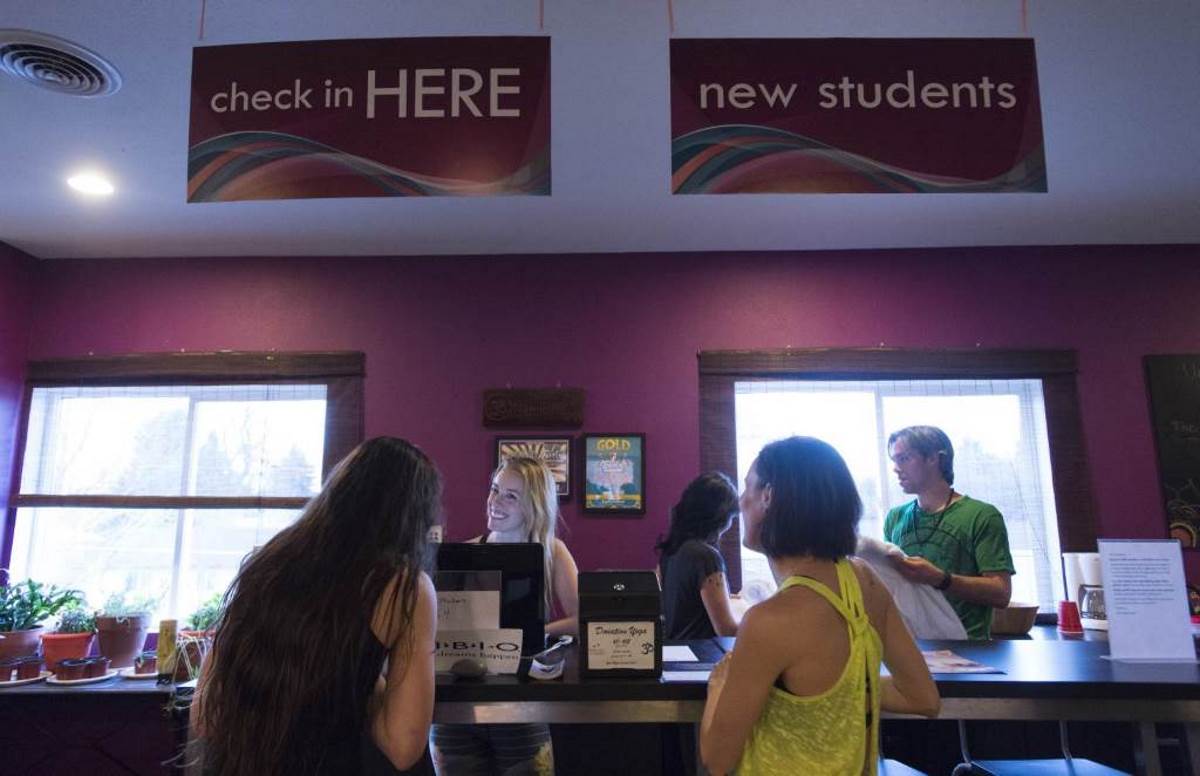 Our Mission is to make yoga accessible to all who seek it.
We are thrilled and honored that you're going to practice with us! We want to make sure your first visit to Cambio is great, so here are some tips.
If there is a waitlist, and someone who's signed up for class drops out or doesn't show, the person at the top of the waitlist will be added to the class; if that's you, and you have email subscriptions on, you should be notified via email (but know that it has been known to go to Spam/Junk folders). If you're not here at least 5 minutes before class starts, we'll give your spot away to someone if there's a waitlist.
We have 2 studio locations, you can check them out here! Doors open 30 minutes before class starts, so you can arrive 15-20 minutes early to get acquainted with the studio and get settled in without any rush. We will greet you at the front desk and show you around.
At Pikes Peak, the entrance is around the back, and you can park in the parking lot to the north and west of the studio. Coming in to our parking lot, the entrance is one way, and leaving, the alley is two way. The wall along Action Therapy is reserved for them during their business hours. Please be sure to remove or hide valuables and keep your car locked. See the Pikes Peak schedule here.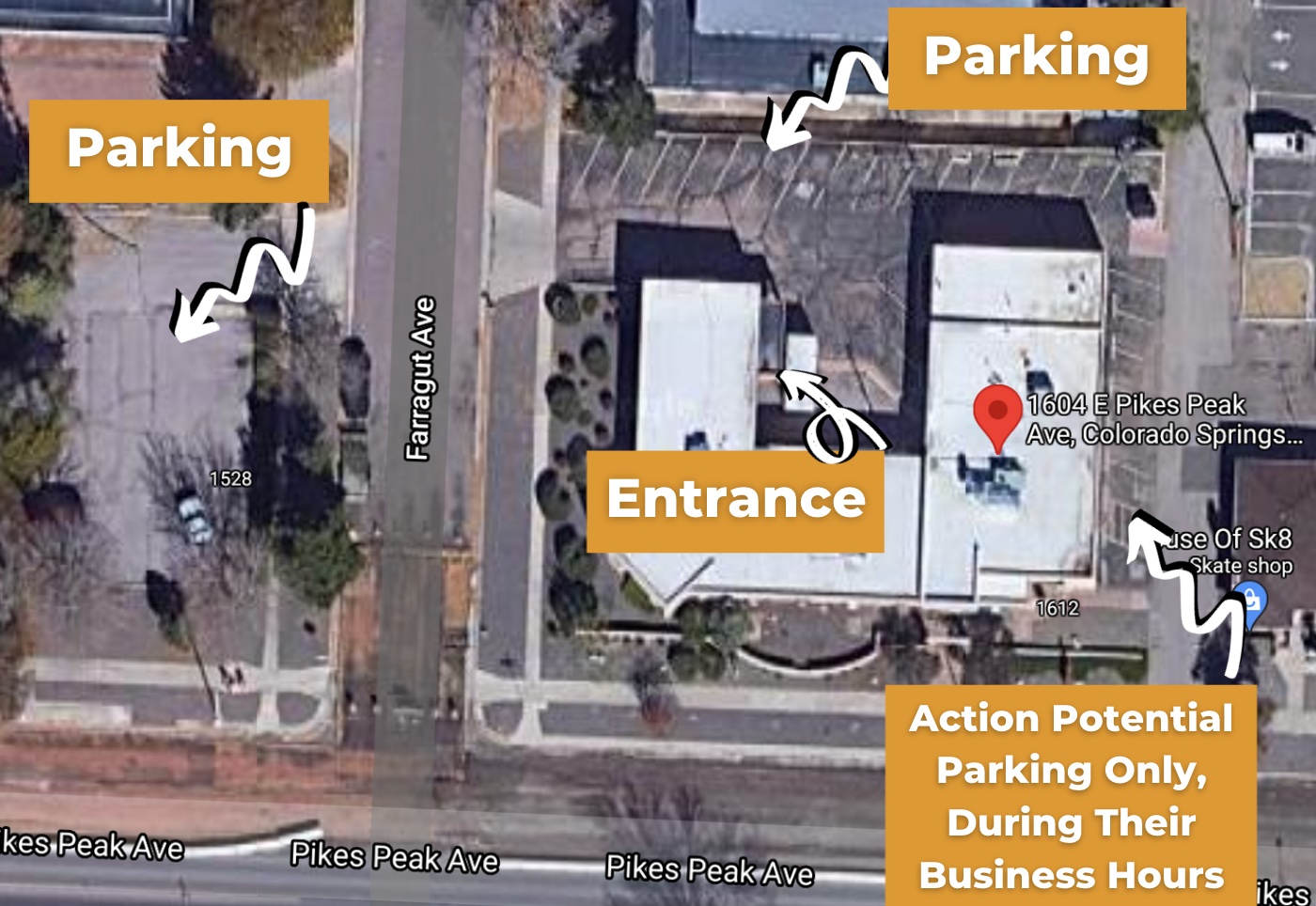 At Austin Bluffs, we have three yoga studios with two separate entrances. Yes, it is confusing! There are signs posted at each entrance with a listing of the classes that are held there and, if you go to the wrong one, we'll make sure you get to the right place :) Parking for Austin Bluffs is available in front of our doors, facing Austin Bluffs, behind the building, and on Indian Pipe. Please be sure to remove or hide valuables and keep your car locked. See the Austin Bluffs schedule here.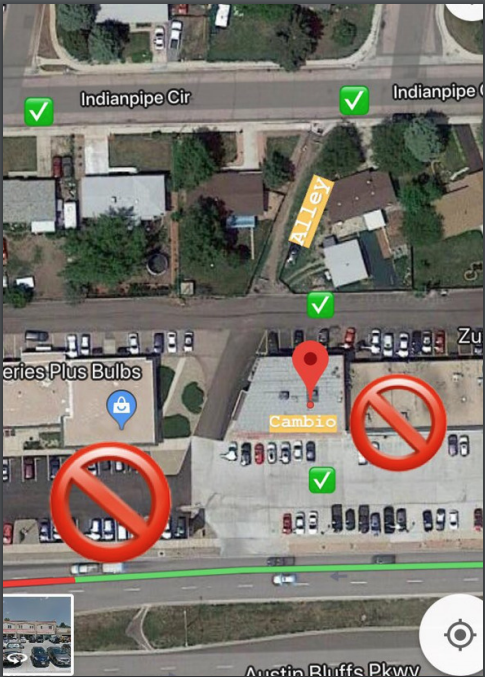 ALL kinds.
You'll be among other excited students of all ages, shapes, ethnicities, backgrounds, religious persuasions...you name it. ALL kinds of people are trying yoga at Cambio!


DOWN-TO-EARTH instruction.
People rave about our genuine, caring instructors all the time!


A lively, inviting COMMUNITY.
Students who practice at Cambio take pride in their studio (soon to be yours, too), so don't be surprised if a fellow student shows you how to use the mat cleaning station or gives you tips on parking.


SILENCE!
Just kidding--we want people to connect! Feel free to chat in the studio before class and in community areas after class.


EVERYTHING is optional.
We might "Om", we might not. If it's not your thing, don't do it. We get that and respect it.
At Cambio, we remember what it was like to try yoga for the first time--kind of scary and intimidating! We want you to have a wonderful first experience with yoga~that's why we have classes dedicated to beginners as well as classes that are suitable for beginners. Our studio has a welcoming, come-as-you-are attitude and our teachers are warm and friendly. If you are a real person, we are here for YOU!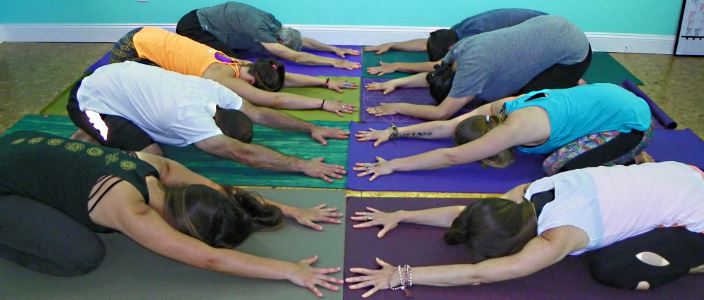 Water


A hand towel can be nice for sweat (and is required for Hot Yoga)


A yoga mat


A sense of humor


Wear clothing that is comfortable for movement. If your clothing is too baggy, it can get in your way.


It's true, we don't wear shoes when we practice. Some people like to wear socks. The choice is yours!

Check Out These Beginner Yoga Class Options:
In this class, we take time to break down the poses and sequences of a one-breath-per-movement (vinyasa) yoga class. We give you lots of tips and tricks so that you can build a safe, lifelong practice!
Vinyasa For In-Betweeners
Have you attended beginners classes for a while, but you're still not quite ready for a full-on vinyasa class? This class is for you! In-Betweeners offers more variety and more complexity than beginning vinyasa, but still plenty of instruction at a pace that will challenge you without leaving you in the dust! Brand new beginners welcome :)
This class is designed for everyone--from peak athletes to people recovering from injury; from young to old; from experienced practitioners to those who are just curious about yoga. Students will benefit from the restorative, relaxing, and centering properties of this class.
This meditative practice is designed to release deep tissue tension & fatigue. You will hold each pose for 1-3 minutes, while a fortress of blocks, blankets, and bolsters support you. So relaxing, someone might have to scoop you off the floor when class is done! Great for stress, injury, and insomnia.
Be sure to check out our Workshops tab!
We frequently offer workshops that are designed for beginners or are beginner appropriate!